P-T-T-LINK-page updated Jan.18th., 2004
PURE-TUBE-TECHNOLOGY
EFFECTS & AMPLIFIERS
recommends the following LINKs to different other web-sites:
or stay here to listen to the dreadful "E-WERK-BAND" soundclip of 1986 (download mp3, 362kB)...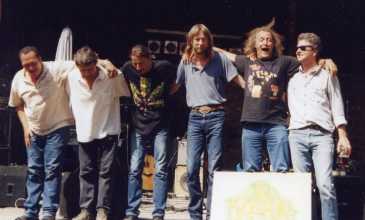 live pic: July 6th. 2003 go to:
(german site)
...or rather go listen to the fabulous soundclips on ELECTRO-HARMONIX`s new mp3-page,
where you`ll find examples of the tonal capabilities of their pedals like the
which (electronics-wise) were designed by
ANTHONIE TH. BARMENTLOO
of the Erlangen/Germany based Pure-Tube-Technology.
LATEST DESIGN for E-H :
(drill-template/design-layout for prototype-chassis)
some celebrities:
some gear pictures:
TUBE-WAH (TM)
patent pending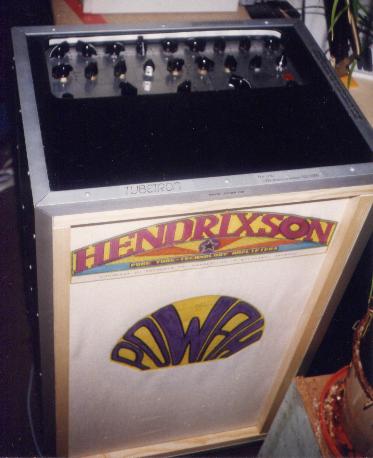 POWAH, 12W class AB bass tube-power-amp, 12" spkr.
with built-in Tube-Envelope-Followah
patent pending
PALM-TUBE-AMP
6W class A tube-amp (EL84)
with built-in "TUBE-HADDOCK", patent pending
LAP-TUBE-AMP
10W EL84-amp (class AB) with built-in "TUBE-HADDOCK" patent pending
letter-size, max 3" thick, recessed remote-control jacks
(lowest:) T.C. A2
2-channel amp 12W (2xEL84, 3xECC83) with built-in TUBE-TRON (TM)
7 rear jacks for remote switching of amp- and envelope-followah functions
TUBE-FUZZ (TM), version I
subnamed : "P-JACKULATOR"
4 footswitches
version III
MusikMesse Frankfurt 1998
hidden on the bench (behind demoing Hendrik`s son): the
WAH-CASTER
2x12W stereo tube-amp with built-in pure-tube-technology
TUBE-CHORUS (TM)
vibrating, wahing, phasing, tremoloing, rotating
in different directions and different speeds at the same time,
causing real 3-D sound-animation
Mr. Mike Matthews (New Sensor Corporation) and Anthonie (left) during negotiations in Frankfurt...
archive:
3 stills of the first TUBE-WAH (1993)
which had a HV switch-mode power-supply built in